撒下真誠的果
自然豐收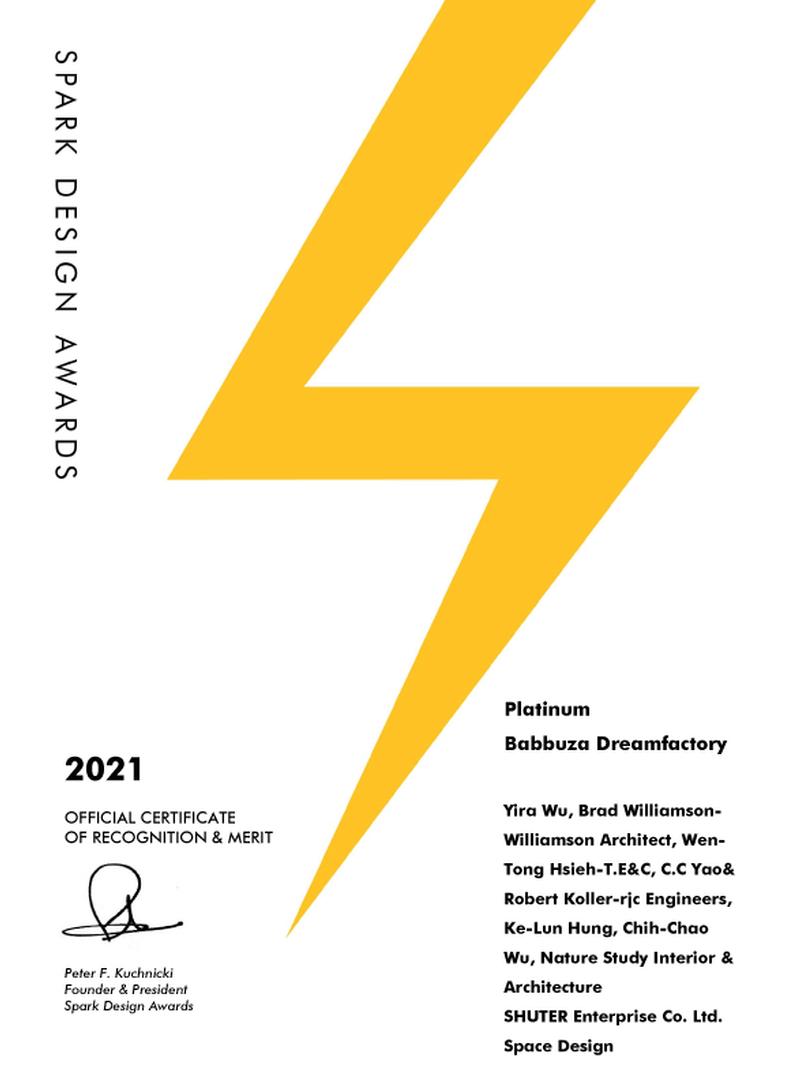 The SPARK Awards / 2021 / 12 / 09
樹德半山夢工廠榮獲 The SPARK Awards白金首獎
2021 Galleries
The Spark Gallery pages are one of our most popular design destinations, with thousands of visitors each year. Check out some of the latest Spark entries, in the galleries below.
Galleries // 2021 Spark:Space // Babbuza Dreamfactory
Babbuza Dreamfactory
Winner - Platinum
Competition: Spark:Space
Designer: Yira Wu - Project Creator
Design Type: Architecture; Working Spaces
Company / Organization / School: SHUTER Enterprise Co. Ltd.
Team Members: Yira Wu, Brad Williamson-Williamson Architect, Wen-Tong Hsieh-T.E&C, C.C Yao& Robert Koller-rjc Engineers, Ke-Lun Hung, Chih-Chao Wu, Nature Study Interior & Architecture
The Shuter Babbuza Dreamfactory embodies a building concept unique to the manufacturing sector. This groundbreaking architectural project represents Shuter's efforts to solve the ecological imbalances created due to current manufacturing systems. Taking inspiration from the banyan tree, which has been regarded in Taiwan as an important symbol of shelter and strength for centuries, the design combines structural necessity with the latest in eco-friendly architecture. A 30.8-meter-tall wooden structure stands stately and supportive in the center of the building. The walls of the deceptively box-like manufacturing complex are made of translucent polycarbonate, which allows air and sunlight to flow naturally throughout the manufacturing space. The roof of Babbuza Dreamfactory is lined with a 4,030 sqm solar photovoltaic energy system that can generate up to 1000 kW of power. The rainwater harvesting system recycles 228,650 liters of water. The factory features a world-first crane-less ASRS (Automatic Storage Retrieval System)–the highest in the world at 46-meters-tall–that uses state-of-the-art robotics to stack and store heavy products. An automated painting facility uses the latest in robotic technology to protect the health of employees. At over 15,000 square meters, Babbuza Dreamfactory is also set to become the most significant tourist factory in Taiwan.